Please be sure to check this page of the website frequently, as new class information is updated when it becomes available.
CLASS AND CROP POLICIES
Payment is required with registration for all classes & crops. Unless otherwise specified, classes and workshops are for adults 18 and older.

Day Cropping available one Friday per month:
Call or e-mail to reserve your space.  Bring your photos and scrapbook supplies for hours of scrapbooking fun! The AccuCut machine is available for use with papers purchased at Pages In Time. No instruction is given during the crop, but plan for lots of fun and sharing of ideas with other croppers!
Cost: $5.00 for 10am-5pm. Fee is waived with purchase of $10 in product during crop.

BASIC TOOL KIT:  Required to bring with you to classes or crops
~ Trimmer/Cutter ~ Scissors ~ Adhesive ~ Score Board ~ Ruler ~ Pencil


JUNQUE JOURNAL/PLANNER (see photo below)
Thu Nov 2:  10am-Noon (1 seat)
Thu Nov 2:   6-8pm (filled)
Sat  Nov 4:   10am-Noon (5 seats)
You will make your own "traveler notebook" to use as a keepsake for a trip, or event or even as a planner. Options include floral, fall, faith, or Christmas-themed papers as shown in photo below. You will add pockets, ephemera, tags etc to prepare it for your photos, journaling, etc, and bind your book using the saddle stitch with an awl & cord included in your class kit. Your notebook will be either 5×7 or 8×4 and will fit in a Kraftdori cover — that class will be offered again on Thu Nov 30th and Sat Dec 2nd.
Cost: $21 plus your basic tool

MONTHLY MITI (Make It Take It)
Fri Nov 3:  10am-4:30pm
Drop in to make this month's 3×5 project.
Cost:  $4, all supplies provided
CHRISTMAS 8×10 CANVAS "Star Swish" (see photo below)
Thu Nov 9:  10am-Noon
Thu Nov 9:   6-8pm
Sat Nov 11:  10am-Noon (filled)
You'll create a Christmas design with a variety of products on an 8×10 canvas, including paint, embossing powder, stencil, scrapbook paper, etc.
Cost: $22  all supplies provided, but bring your scissors & pencil — & apron if you like.

4th ANNUAL CHRISTMAS CREATIVE
Fri Nov 10th:  10am-10pm
** Please see separate article below**

MONTHLY SCRAPBOOK LAYOUT (filled)
Thu Nov 16 & Sat Nov 18

DAY CROP
Fri Nov 17:  10am-5pm (3 seats available)
Work on your own project- no teaching involved.
Cost: $5 or fee waived with purchase of $10 in regular-priced products
CLOSED WED Nov 23 & THU Nov 24 for THANKSGIVING
CHRISTMAS OPEN HOUSE
Fri Nov 24:   10am-5pm
Sat Nov 25:  10am-3pm
PENNY BLACK CARD CLASS
Fri Nov 24:    10am-Noon
Fri Nov 24:     2-5pm
Sat Nov 25:    10am-Noon
Wed Nov 29:  10am-Noon
You will make 4 cards using new Penny Black Christmas stamps for 2017.
Cost:  $15 plus your basic tool kit
KRAFTDORI – Cover for Traveler Notebooks & Junque Journal
Thu Nov 30:  10am-Noon
Thu Nov 30:  6-8pm
Sat Dec 2:     10am-Noon
Create and design your own cover for travelers notebooks. Lots of stencils will be available
to help you create a themed planner cover of your choice; for example,
daily planner, Christmas-themed, faith planner — whatever you want it to be!
You'll also receive a Moleskine cahier (8×5 size) to go inside to use as a bullet journal,
monthly planner, etc.
Cost: $22 plus your basic tool kit.
Additional Moleskine notebooks available at $4.50 each
MONTHLY MITI (Make It Take It)
Fri Dec 1:  drop in between 10am-4:30pm
This is the final project in this 3″x5″ series.
Cost:  $4 includes all supplies
CHRISTMAS MINI ALBUM
Thu Dec 7 & Fri Dec 8 & Sat Dec 9
Details coming later
MONTHLY SCRAPBOOK LAYOUT
Thu Dec 14 & Sat Dec 16
QUICK CHRISTMAS PROJECTS
Thu Dec 21 – Fri Dec 22 – Sat Dec 23
Details coming later
END OF YEAR SALE
Wed Dec 27 – Sat Dec 30
Details coming later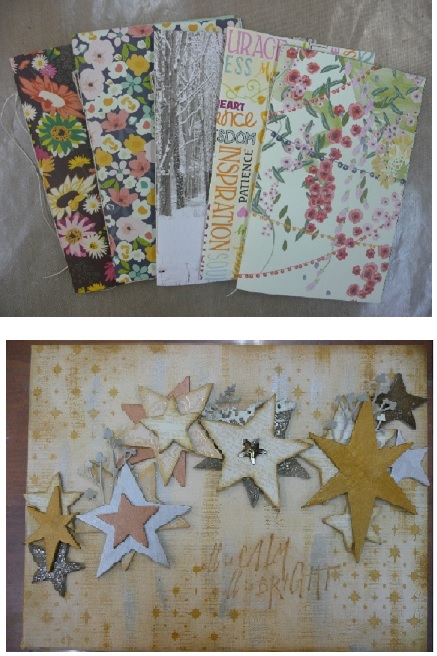 ---
4th ANNUAL CHRISTMAS CREATIVE (see photos below)
Fri Nov 10th:  10am-10pm
Registration is open now for this full day of classes to kick off the Christmas project season at Pages In Time. Feel free to pack lunch/supper or local restaurants available also.
Cost:  $75 for full day of classes.
If spaces remain available after Sat Nov 4th, individual class sign-ups will be accepted.

10am-Noon     Homestead Scene with Wendy Vecchi products
Using Wendy Vecchi Mini Mats and Tim Holtz Vignette panel, you'll create the scene shown below.
A second smaller project will be made during the last part of the session.
Cost: $16 plus basic tool kit
1:30-4:30pm    Scribbly Trees Framed Decor
Using the Tim Holtz "Scribbly Christmas" tree stamps, you'll create a 12×12 home decor piece. Shown in photo is gray/burgundy — a green/burgundy option is also available. A white or black plastic frame w/glass is included.
Cost:  $ 34 plus your basic tool kit
6-10pm   Canvas Shadowbox Winter Scene
Using a 9×12 canvas, you'll create a shadow-box effect with a winter scene using the Tim Holtz winter tree die and various other products.
Cost: $25 plus your basic tool kit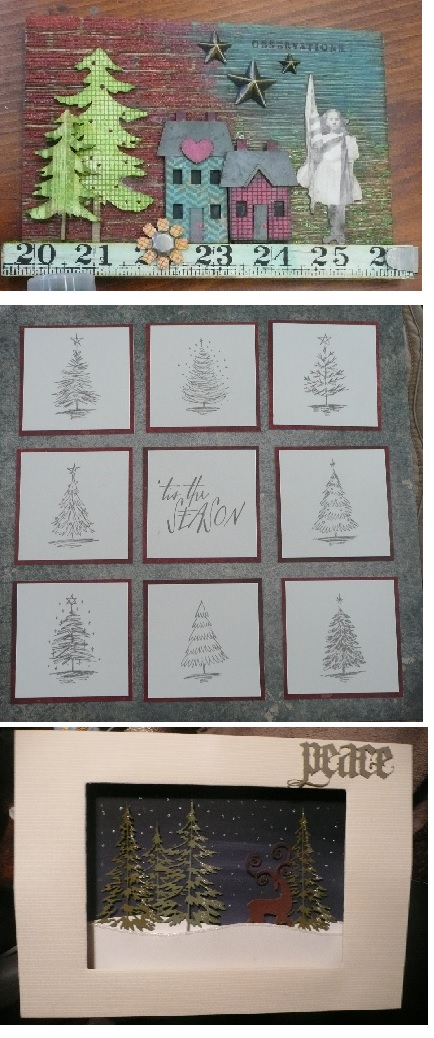 KODAK MACHINE We have a Kodak Picture Maker machine on site! Enlarge your photos, make copies and add creative borders, etc. Print photos from your digital media OR scan photos for reprints, enlargements, etc.
BUGGIES AND BUDS SCRAP & STAMP SHOP HOP
Our 9th Annual Shop Hop will be held Wed Sep 27 – Mon Oct 9th. Some stores still have passports available for sale.
Check out the link below to find the names & information of all participating locations:    http://www.buggiesandbuds.com/details.html
Each year, the purchase of a passport entitles you to participate in the Shop Hop held the first two weeks of October and receive 20% discount on your purchase at each store. You are also eligible to receive a free MITI (make it take it) or TIMI (take it make it) or gift at each store where you present your passport.